MY ADOPTED NIECE LIZZY
(An Awesome God)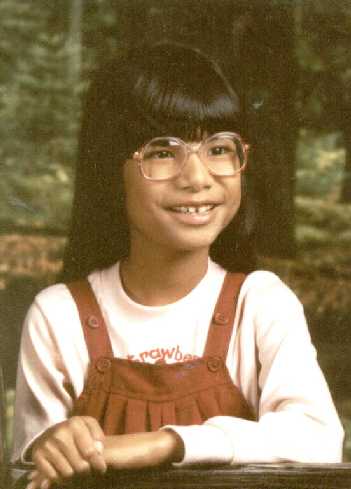 This is Lizzy's school picture; not sure what grade she was when this was taken.
Lizzy has completed high school and is currently working at a department store near her home in San Diego. She has previously worked at Sea World.
Lizzy is very family-oriented. She is faithful in keeping in touch with her family on holidays and sometimes on weekends. She would call just to find out if everything and everyone was okay.
Lizzy is such a sweet girl. A special promise for her is found in Ps 51:10. Our awesome God will: "Create in me a clean heart, O God; and renew a right spirit within me."
An Awesome God
Oh when He rolls up his sleeves
He ain't just puttin' on the ritz,
Our God is an awesome God
There is thunder in his footsteps and lightning in his fists
Our God is an awesome God

And the Lord wasn't joking when He kicked 'em out of Eden
It wasn't for no reason that He shed his blood
His return is very soon and so you'd better be believin' that
Our God is an awesome God

Our God is an awesome God
He reigns from heaven above
with wisdom, pow'r and love
Our God is an awesome God

And when the sky was starless in the void of the night
Our God is an awesome God
He spoke into the darkness and created the light
Our God is an awesome God

And judgment and wrath He poured out on Sodom
Mercy and grace He gave us at the cross
I hope that we have not too quickly forgotten that
Our God is an awesome God

--Words and Music by Rich Mullins






Awesome God Midi