THE BRUSH OF ANGELS' WINGS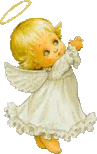 Pure as the morning dew,
Sweet as a robin's song,
Soft as billowy clouds
They make their presence known.


Angels from Gloryland
Are roaming far and near;
They come to give comfort
And chase away all fear.






They sometimes surprise me
By a kind word or deed
That comes from a stranger
Or a neighbor 'cross the street.


An email from a close friend
Buoys my spirits way up high;
It points me to my Home
Far beyond the blue sky.







When feeling sad and blue
And tempted to despair,
I take time out and pray
For angels to draw near.


In times of great peril
And danger threatens me;
They come to my rescue
And keep me safe and free.







God loves me for He sends
A special guardian angel
To watch and care for me
And my deeds to chronicle.


I try to live my life
That will not cause him grief
But honor and glorify God
For that's what I believe.






When I accepted Christ
There was great joy in Heaven;
The angels rang the bells
That echoed through the realm.


The smile of someone I love,
The fragrance of a flower,
The twinkling stars at night
Tell me angels o'er me hover.







In the beauty of a sunset,
I see the angels gather;
Their serenade thrills me
And honors the Creator.


On a pearl-dusted beach
Ten thousand angels pour
Their litany of praises
That rolls like waves on the shore.







Oh, glorious love of God
My soul in rapture sings
For all through life I feel
The brush of angels' wings.


Copyrighted © Lydia Haga 2004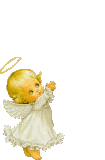 Related topic: Personal Angel Stories
HOME
NEXT
BACK
EMAIL



Serenaded by Angels Midi