I WAS ON HIS MIND



In the distant past before time began
Back in the days of eternity,
The decision was made that should man
Disobey and sin there would be a Remedy.


Both the Father and the Son agreed
That for the redemption of man's soul,
The Lamb of God would be slain
From the foundation of the world.







Viewing the vast expanse of eternity,
He saw the happiness of His people
Who built for time and eternity,
Not on perishable hay, wood, or stubble.


His ear caught the shout of the redeemed:
Worthy, worthy is the Lamb that was slain
To receive power, riches, wisdom and strength...;
His suffering and death were not in vain.







The thoughts of His purchased possessions
Who through His humiliation shall receive
The touch of immortality and wear its crown
Sustained Him in His hour of deepest grief.


The prophets Isaiah wrote that the Messiah shall
See the travail of His soul and shall be satisfied;
A doomed people reclaimed from the enemy's grasp
Indeed was worth it all when He was crucified.







How beautiful upon the mountains are the feet
of him that bringeth good tidings, that publisheth peace;
Thy God reigneth! Break forth into joy, sing together,
ye waste places:...for the Lord hath comforted His people...
All the ends of the earth shall see the salvation of our God.


Here are the lyrics to the beautiful song
When He Was On the Cross, I Was On His Mind
As you listen to this song, take a moment or two to
Ponder what's been done for you by Love Divine.







WHEN HE WAS ON THE CROSS,
I WAS ON HIS MIND

I'm not on an ego trip,
I'm nothing on my own
I make mistakes I often slip,
just common flesh and bones
But I'll prove someday,
just why I say, I'm of a special kind
For when He was on the cross,
I was on His mind.


For He knew me yet He loved me
He whose glory makes the heavens shine.
So unworthy of such mercy.
Yet when He was on the cross,
I was on His mind.







The look of love was on His face
and thorns were on His head
The blood was on His scarlet robe
and stained a crimson red
Though His eyes were on the crowd that day,
He looked ahead in time
For when He was on the cross,
I was on His mind.


For He knew me yet He loved me
He whose glory makes the heavens shine.
So unworthy of such mercy.
Yet when He was on the cross,
I was on His mind.
Yet when He was on the cross,
I was on His mind.


Copyrighted © Lydia Haga 2004
Copyrighted © Ronnie Hinson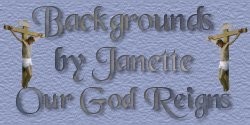 When He Was On the Cross, I Was On His Mind Midi