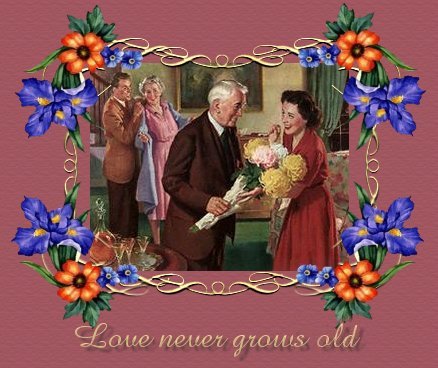 True love never grows old
For it's a holy, endearing principle
From God's throne that finds a lodging
Place in the hearts of His people.


The nature of love is calm and deep
For it has an intellectual basis--
A thorough knowledge of the person loved
Seasoned with wisdom and sweet Christian graces.







Love looks beyond outside appearances
And is attracted by qualities alone;
It is polished, refined, and discriminating,
Its affection is abiding and strong.


It's not an impetuous and fiery passion,
It's not unreasonable or blind
For it lives and flourishes deep
In the heart where God is enshrined.







A labor of love reaches out beyond the home,
Quiet and simplistic in its operation
Yet strong and mighty to overcome crises
That tend to shipwreck trust and devotion.


True love is a positive emotion,
It's never based on human feelings
That's so unpredictable and frail
Leaving a character grossly unappealing.







Love is patient, love is kind. It does not
envy, it does not boast, it is not proud.
It is not rude, it is not self-seeking, it is
not eaily angered, it keeps no record of wrongs.


Love does not delight in evil but rejoices
with the truth. It always protects, always trusts,
always hopes, always perseveres. Love never fails.







But where there are prophecies, they will cease;
where there are tongues, they will be stilled;
where there is knowledge, it will pass away.
For we know in part and we prophesy in part,
but when perfection comes, the imperfect disappears.


When I was a child, I talked like a child,
I thought like a child, I reasoned like a child.
When I became a man, I put childish ways behind me.







Now we see but a poor reflection as in a mirror;
then we shall see face to face.
Now I know in part; then I shall know fully,
even as I am fully known.


And now these three remain: faith, hope and love.
But the greatest of these is love.
(New International Version of 1 Corinthians 13)








Does love ever grow old? No, it doesn't
For love is of God and God does not grow old;
So, if God so loved us, we ought to love unreservedly
The spouse He has given us to cherish and to hold.


Copyrighted © Lydia Haga 2004











I Love You Truly Midi