MY NIECE DIANA 'DINKY'
(Morning Has Broken)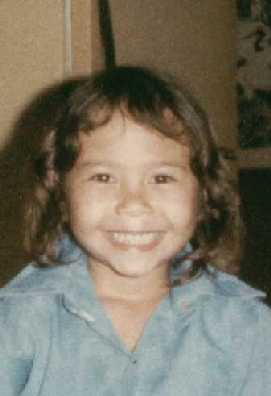 Morning has broken for little Diana nicknamed by her parents "Dinky".
Long before my brother and his wife Narcy found out that there was a health problem with their daughter, Dinky had been going over to our empty house (awaiting a buyer) near their house and sleeping there all day. She did this instead of going to school. Then she would wander over to her house when it was time for school to be let out. Soon a note from her teacher arrived stating that Dinky had missed several days of school. Needless to say, she was taken to a doctor for a physical examination and that was when they found out she had acute leukemia.
Dinky corresponded regularly with my Mother in San Diego for she missed her Grandma terribly. Then, her illness progressed, and she was not able to write anymore. She and her mother traveled to Hawaii to undergo treatments. Sad to say, the treatments did not bring relief or healing, and she finally succumbed to the dreadful disease.
When my brother and his wife were cleaning out the hospital room after Dinky had passed on, they found a letter addressed to them that broke their hearts in pieces.
During part of the time Dinky was sick, Tina, her older sister, had planned a wedding. There was the usual excitement and anticipation associated with weddings. Tina had sewn her wedding gown as well as those of her bridesmaids. In the letter, Dinky apologized to her parents for not being able to grow up and have a wedding and give them grandchildren. She thanked her parents especially her Mother for all the time and trouble and grief that she felt she had caused her. She assured them that she loved them more than anything in the world and for them not to grieve over her passing.
In her childish block printed letter, she specified who would receive her personal belongings after she was gone. She drew pictures of hearts and wrote I love you Mom and Dad - I love you forever, Dinky.
My brother sent me a copy of the letter, and it was most touching indeed. Coming from a ten-year old child, it was filled with insights and wisdom beyond her years.
My brother told me of a dream Dinky had months before she passed away. She was in a long dark tunnel and got out on the other side. The place on the other side was the most beautiful place she had ever seen. The grass was a living green, the trees were majestic, the carols of the birds were melodious and sweet, the flowers were a symphony of colors and scents and totally out of this world. Oh, she said, 'the scene was indescribably beautiful; it must be heaven!'
I was away from Guam when you were born and growing up, Dinky, so I have not personally met you, but I hope and pray by God's grace to meet you on that glad and blessed morning when Jesus, the Resurrection and the Life, will wake up the dead in Christ at the last trump and 'we which are alive and remain shall be caught up together with them in the clouds, to meet the Lord in the air: and so shall we ever be with the Lord.' 1 Thes 4:17.
Then God's promise in Malachi 4:2 will be fullfilled for you. 'But unto you that fear my name shall the Sun of righteousness arise with healing in his wings; and ye shall go forth, and grow up as calves of the stall.'
For now, rest in peace, and I'll see you when you wake up in the morning.
Morning Has Broken
Morning has broken
Like the first morning,
Blackbird has spoken
Like the first bird.

Praise for the singing!
Praise for the morning!
Praise for them, springing
Fresh from the Word!

Sweet the rain's new fall
Sunlit from heaven,
Like the first dewfall
On the first grass.

Praise for the sweetness
Of the wet garden,
Sprung in completeness
Where His feet pass.

Mine is the sunlight!
Mine is the morning
Born of the one light
Eden saw play!

Praise with elation,
Praise every morning,
God's recreation
Of the new day!

--Eleanor Farjeon





Morning Has Broken Midi