ONE DAY AT A TIME

Truer words were never spoken, written, or sung than the words of a song that said: Yesterday's gone, sweet Jesus, and tomorrow may never be mine; Lord, help me today, show me the way one day at a time.
I was sitting at Firestone Tires waiting for the mechanics to work on my car brakes. To pass the time, I took out from my purse one of the books I had brought with me to read. While sitting there reading, I overheard a gentleman talking about the community outreach program at their church, the Church of the Nazarene. They were giving out breads and produce daily to the needy people in the community. I had been involved in caregiving-type ministries for years both at the personal level and church level, and naturally, I was interested. It was always nice to have backup resources to tell people with needs where they could get help. I got the phone number and address of the Church of the Nazarene.
When my husband John was diagnosed with Alzheimer's disease and placed in an assisted living center, we were nearly wiped out financially. We were not able to get help from the state because of the income I was making. It was not cheap to live in one of these places, and in a short while, our finances were depleted.
I was cleaning my purse one day, and I found the paper that I had scribbled the phone number and address of the Church of the Nazarene. If anyone needed help, it would be me at least at that point in my life. But I didn't feel comfortable being the recipient of acts of mercy. I would need to swallow my pride and get help. Reluctantly, I went to the Church of the Nazarene and got breads and produce for free. They didn't ask me how much money I make a year. I got boxes of strawberries, grapes, plums; sometimes I got squashes, tomatoes, and cucumbers. Some days I got broccoli, eggplants, and peppers, etc. This really helped us as we went through this hurdle in our lives.
Looking back, sitting there at Firestone, I had no idea that I would be the one to go and avail myself to the services offered by the Church of the Nazarene. They called their ministry The Gleaners Dispatch - and how appropriately named as you shall see later.
Many of us are familiar with the story of Mary and Martha in the Bible. Mary was sitting at the feet of Jesus listening to His words while Martha busied herself in the kitchen preparing the meals to serve the Lord. Martha must have felt overwhelmed with the task and came to Jesus making mention of the need to have Mary help her in the kitchen. Do you remember what Jesus told Martha? In essence, He told her to slow down and prioritize things in her life. As important it is to prepare meals for our guests, the most important thing is to do what Mary had chosen to do--sit at the feet of Jesus and listen to what He has to say. I'm sure you have heard many sermons about the need to be Marys and not Marthas.
You know something? Sometimes we need to be Ruths. We read the story of Ruth in the book of Ruth in the Old Testament. Ruth was poor, and in order to survive in a strange country, she had to go and glean in the barley and wheat fields of the wealthy people. In the fields of Boaz, some of the sheaves were purposely left behind for her and the poor in the community to glean. Ruth did not whine to Naomi, her mother-in-law: "No, I don't want to glean in the fields. People will see me, and I will be embarrassed to death. Please, don't let me go." She went and did what needed to be done, didn't she?
Sometimes we need to swallow our pride and do what needs to be done, don't we? Wasn't it pride that brought the downfall of Lucifer in Heaven? I feel that the Lord in His love and mercy had given me an opportunity to correct a flaw in my character. I was proud, I was a caregiver, not a recipient! I needed to learn to accept help. I needed to learn humility. Oh, isn't it just like the Lord to give us the perfect set of circumstances to teach us to humble ourselves and lay our pride and glory in the dust? And isn't it just like the Lord to have the right people cross our path at the right time and to show us the way one day at a time?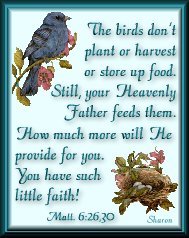 Said the Robin to the Sparrow;
"I should really like to know
Why these anxious human beings
Rush about and worry so."

Said the Sparrow to the Robin;
"Friend, I think that it must be
That they have no Heavenly Father
Such as cares for you and me."

--Elizabeth Cheney







One Day At a Time Midi