ANGELS AMONG US

My husband Gary, my son Mike, and I were living in Boulevard, California, a small town on the mountains east of San Diego. We were renting to own a property consisting of 35 acres with a beautiful 3-bedroom house with a large deck on the front and on one side of the house. The house was originally built for a schoolhouse for exceptional children, which explained the unusual spaciousness of the bedrooms and the extra wide doorways. There were bathrooms in the bedrooms as well as one in the living room.
Outside the view was breathtaking. Except for the tall, towering cliff-like rock on the side of the property that seemed to rise up to the clouds, we almost had a 360-degree view of purple mountains in the distance. In the winter, snow fall in this part of the world. Because of the big, towering rock, the place was called the Big Rock Ranch.
There were no private schools close by so I decided not to send Mike to public school, but keep him home much to his sheer delight. Home schooling was not popular back in those days, but that's what we did. Talk about quality time. We had the most wonderful times together, just the two of us. No more rushing about to do a lot of things and missing out totally on the things that mattered--relationships, to God and to one another.
Now we had all the time in the world--time to work, time to play, time for reflection and meditation. We read books, we worked outside in the yard, we planted shrubs and flowers, we even sang at the top of our voices for there were no neighbors to complain, and most importantly we played and walked with our three dogs.
Opal was a feisty American Eskimo white as snow and beautiful as could be. Max was an Airedale who loved to play but could emit the most mean sounding growl from his throat that could frighten anyone. He had a face that Gary always said 'was a face only a mother could love'. Then, there was JJ, a three-month old German Shepherd with the biggest paws you ever saw. JJ stood for Jasper Jade for she was a jewel, a double jewel of a puppy.
At the time, my husband was commuting to San Diego to work the night shift at the Naval Supply Center, a distance of about an hour and a half one way. I had taken time off from work because of the school situation with Mike.
It wasn't long before we had to move to Yuma, Arizona. Gary was selected for a computer programming position with the U. S. Army Proving Ground. While we should be overjoyed for this, Michael and I were sad because we would be leaving our home at Big Rock Ranch.
With heavy hearts, we started packing. We had to get rid of a lot of our stuff because the trailer we were moving to was just too small. We had already put some of our things in storage. Indeed, it was a day of gloom--a day of tears and sadness. And then more tears because now the dogs (Opal and Max) would have to be given away. Pets were not allowed at the trailer park we were moving to. JJ was temporarily placed at my parents-in-law's place until we could find a place of our own. They could not take all three dogs because their place wasn't big enough to accommodate all three, and they already had one. But there was some comfort in knowing that Opal and Max were placed in good homes.
We had the car packed and were ready to leave. My husband and I checked to make sure everything was okay. Gary had always been meticulous about things and a perfectionist in many ways especially in how he took care of his car. He checked the car, and it was okay. I went from room to room to see if we had left anything behind; all was fine. Then, we walked out the door and closed it behind us for the last time.
There was a lump in my throat as I headed for the car. While the day was pleasant, the sun was shining, and the gentle warm breeze seemed to be saturated with messages of hope and promises for a wonderful, new beginning in a new place, my heart was aching; it was filled with a sadness and a gloom that I couldn't shake off. I thought: Why is leaving this place so painful? We've only lived here four months, and it feels like we lived here all our lives? I knew Michael felt the same way about leaving this place as I did. I thought it was because Mike and I had bonded in a very special sense as we had never bonded before. We enjoyed a closeness with each other, and being out in nature a good part of the time, we enjoyed a closeness with God as well. I knew that we would miss Big Rock Ranch very, very much.
We climbed wearily into the car that was packed from floor to top with household stuff leaving just enough room for Mike to squeeze his little self in the back. Before driving off, we paused momentarily to look at the place one more time. A silent prayer for God's protection went up to the throne of grace. For Mike and I this place was extra special, almost sacred. Our hearts were breaking as we sat there, looking and taking everything in and etching in our memory banks the fun and carefree times we've had at Big Rock Ranch. We knew that God was there at Big Rock Ranch, and we knew that He would be with us at our new place in Yuma.
We started our journey to Yuma, Arizona, the land of sand dunes, cacti, and glorious sunsets. On the back seat of the car, Michael was trying hard, but not doing a good job at it, to stifle sobs. I tried to think of pleasant things we would do in Yuma to keep from bawling like a baby. I reached back and held Mike's hand momentarily to comfort him and to let him know that it was okay to cry and that things would be better in Yuma.
As we reached the crest of the mountain, we heard a strange rumbling sound coming from our car. I looked at my husband, but for some reason or other, he was not terribly concerned. He said that it was probably something minor but he would check it out as soon as we get to the bottom of the mountain. He said it would not be safe at the moment to check it because of the narrow winding road and traffic was fairly heavy. There was a precipice at the edge of the road, and there was no telling what could happen if we did stop and were hit from behind. He didn't want to take this risk. Since my husband knew a lot about cars, I trusted him and I let it go at that.
I closed my eyes and tried to relax but couldn't. The rumbling sound grew progressively worse, and I wondered if my husband had made the right decision. I prayed silently for God's protection. I prayed for the angels to surround us and keep us safe.
It seemed like forever before we finally reached the bottom of the mountain. My husband got out to check the source of the strange rumbling sound we had heard. Mike and I waited in the car as cars and trucks zoom by causing our car to sway slightly. I was scared that we were going to be hit parked forlornly there by the side of the winding road. I was also scared that we would be stranded for a long, long time. El Centro, the next town, was a ways off.
A look at Gary's face told me that whatever was causing the rumbling noise we heard was not something minor. He was horrified to find that there was only one set of nut and bolt that was holding one of the tires in the front, and it was so loose, it was a miracle it, too, didn't come off like the others. He said he couldn't figure out how he had missed checking this before we left Big Rock Ranch. Then I remembered that Satan is as a roaring lion who seeks to destroy us if he could, but the angels of the Lord interpose to keep him and his wily foes from doing so.
Gary was not a religious person, but he was in total awe. He said that an unseen power attended us of this journey and held on to the tire to keep us from plunging off the cliff and be dashed in pieces on the rocks below. We thanked and praised God for sending His angels to protect us from danger.
Psalm 91:11-12 - "For he shall give his angels charge over thee, to keep thee in all thy ways. They shall bear thee up in their hands, lest thou dash thy foot against a stone.
Psalm 34:7 - The angel of the LORD encampeth round about them that fear him, and delivereth them."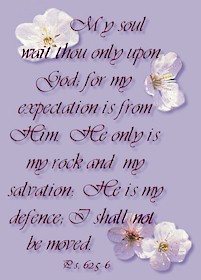 Angels Among Us Midi