LYDIA, A SELLER OF PURPLE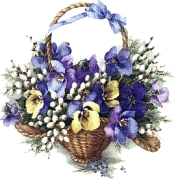 In the book of Acts
It was recorded
That thru the preaching of Paul
A woman was converted.






The woman's name was Lydia,
A seller of purple;
She was loving and kind,
Gracious and hospitable.






She lived in Thyatira
There with her household;
More than anything they wanted
The Gospel story be told.






Lydia, seller of purple,
Had a great role to play
In sharing the Light
With the people in her day.






She sold exquisite fabric
Dyed in expensive purple;
No doubt she used her means
In spreading the Gospel.






I've often wondered if the
Fabric of Christ's purple robe
That He wore before Herod
Came from Lydia's abode.






Earlier in Acts Chapter 16
We read that Paul had a vision
To go into Macedonia
With the Gospel Commission.






The apostles brought the Light
To the land's length and breadth
Else the people be doomed
To their eternal death.






Today, the Gospel must go
To the lands of the heathen;
It is the good news
Of the Kingdom of Heaven.






Let's follow the example
Of this woman named Lydia
And spread the Gospel
Throughout the media.






And let's not grow weary
In our labor of love
To gather the jewels
For a golden crown above.


Copyrighted © Lydia Haga 2004






Send the Light Midi