A LETTER TO SISTER CATHERINE

27 January 2001
My Dear and Sweet Sister Catherine,
This morning John and I went to church. It was the first Sabbath in church without you. It was strange. We expected for you to come in anytime and take your place at the piano, as usual, but, alas, that would not be. It was hard to believe that you are gone. It seemed only yesterday that we had fellowship dinner at church. John carried the big Tupperware bowl of potato soup which we were going to heat later at lunch. As he entered the front door of the church, he tripped and fell spilling potato soup all over the beautiful red carpeted church. For a moment, we thought There goes our lunch. However, after all the commotion, we found out there was enough soup left in the bowl intact that we had enough for our lunch.
Things worked out well because the company we were expecting did not show up. Had they showed up, there would not be enough soup, but, then, that wasn't a problem because we knew from experience that God has a way of multiplying the loaves and fishes when we get in situations like that. You liked the potato soup so much that you called Sunday morning to ask for the recipe. But you knew me, Catherine, I didn't use recipes. I used a little bit of this and a little bit of that, a little seasoning here and a little seasoning there, and presto, potato soup!
Oh, Catherine, we missed you so much. We missed your smile, your words of encouragement and cheer, your prayers, and your love for the Lord as you shared with us His wonderful dealings with you. I remember the times we studied the works of our pioneers. We discovered many fascinating things, didn't we? We learned about their position concerning the Trinity, etc. We appreciated our church history, and we realized more than ever how the Lord had blessed His Church with progressive light and understanding. Like the rising sun, the rays of precious truths grew in strength, power and warmth in the hearts of our people.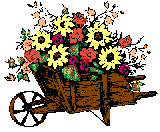 After church today, we went to the Jacksonville Memorial Gardens where you were laid to rest. We saw the beautiful flowers that your family and friends had given in your memory. A beautiful floral arrangement came from your friends at Avondale Baptist Church. I remember you talking about your friends there. Oh, Catherine, they loved you so much; they were there to pay their last respects.
Ruby Raymer, our point of contact from the Church of the Brethren, was there also. She found out about you from reading the Obituaries in the papers.
I met all your family. Mark and Kay were wonderful people. We met your grandchildren--they were beautiful young ladies. The younger one was named after you. She was beautiful just like you, Catherine. I met Shaner's son, Shane. He and his young wife were precious. They were so young, and she was expecting a baby. Then we met your nephew from Lexington, the one who every year sent you round-trip tickets to spend your vacation with them. Oh, he was such a sweet person. We talked about the time you lost your airline tickets. We laughed. You didn't want to mention it to him just yet...because you and your church family were going to pray about it. You found the tickets. Praise God! Then he called you and in that conversation you told him what had happened. You and all of us did not know then that that trip to Lexington would be your last trip.
And, Catherine, you wouldn't believe this. Robbie Moore flew in from Ohio as soon as she found out about you; but she missed the viewing, and she was distraught. Her plane didn't come in till 11:00 Tuesday night; your viewing was at 7:00. She informed me she wouldn't go back to Ohio without seeing you if it'd take jumping on the top of the casket until they let her see you. First thing in the morning I would call to see if the Hardage & Giddins Mortuary in Jacksonville could open the casket for her to see you before the trip to the grave site in Orange Park.
I called the Mortuary, and they told me I needed to get permission from the family before they could open the casket. Your son Mark gave us permission. The Mortuary also wanted me to be aware that time was of the essence. It was 8:30 when I was talking with Robbie and that she was going to call a cab. We had till 9:15. Forty-five minute time frame was tight, very tight as a matter of fact, considering distance and unpredictable traffic condition. In my mind, I was urging and willing Robbie to hustle, hustle, hustle. At 9:10, the Mortuary called and said they would close the casket with or without Robbie on the set deadline. While they sympathized with her situation, they would not jeopardize their schedule for one person.
At the 9:15 deadline, Robbie had not shown up. Oh, no, what now? The Mortuary was on pins and needles. They needed to leave for Orange Park, but were giving Robbie just a little bit more time (thank God). Oh, Robbie, please show up! Please show up NOW! The precious minutes ticked away. At 9:29, Mark called and told me that if Robbie didn't show up in one minute, yes, one minute, the casket would be closed, and the trip to Orange Park commenced, end of story. I feared that Robbie would not see you, Catherine.
Joanie, who was visiting with us that week and planned on going back to her home in Ocala, decided to stay a few more days so she would be at the graveside service. She, John and I knelt down and prayed to the God of Heaven to take control of the situation--to make the impossible happen for Robbie.
One minute ticked and Robbie showed up at the Mortuary. When Robbie called to tell us that she was able to see you, cheers of 'Praise God!' rang through our house. Despite the time constraint, the Mortuary was gracious enough to give Robbie some precious time alone with you. Robbie loved you, Catherine. I knew that your relationship with Robbie, Greg and the children had always been special. The night before when I was talking with her on the phone at a plane stop over in North Carolina, she was crying her heart out. She was crying that she had missed the viewing; she needed to see you, oh, how she needed to see you. She needed closure.
While that sounded like a happy ending for Robbie, it was not the end of the story. While we (John, Joanie, Brothers Peter and Andre) were getting ready to leave for the graveyard service scheduled to begin at 11:00, Robbie called around 10:20 and said she needed a ride to get to the graveyard. Whoops! I had the impression that she was taking the cab from the Mortuary to the graveyard which would be close enough to make it in plenty of time for the service. But, alas, Robbie went back to her motel a distance of about 45 minutes to an hour away from the grave site. We quickly hustled out the door and tried to beat the clock again. To pick up Robbie this late, I knew we would miss a good part of the service.
I drove the car at speed I was not accustomed to. I was not only worried about cops stopping me at this crucial time but worried about violating my conscience concerning breaking the speed limit. But I knew how important it was to Robbie to be there. Joanie, bless her heart, kept reminding me that I was doing great and that all would work out. John kept saying that I was making good time. I knew that they were praying silently for our safety. It turned out, praise God, that everything worked out. Isn't it marvelous how the Lord intervenes and blesses when we need it? We missed only a small portion of the service--maybe five or ten minutes. We missed the opening remarks and prayer by our field minister, Brother Peter Lausevic, (we were sad to have missed this part) but we were able to hear your Eulogy and the rest of the service conducted by Elder Flynt.
We met many old friends from JAX First Church. Bill and Sharon O'Connor were there; Ed and Pat Ward and Amy Layfield and her husband were there. I knew the Mannings were very special people to you. While Carolyn couldn't make it, Amy, her daughter, was there. Many of the brethren from Ocala and Orlando were also there. I introduced them to your family.
The Lord saw to it that everything went smoothly and beautifully at the graveside service, Catherine. You would have been very pleased.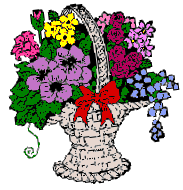 There were beautiful flowers everywhere. You, who loved Nature and beautiful flowers, would have loved to see them. I saw a beautiful bouquet from Bob and Mary Colvin from Tennessee. It was so lovely, Catherine. Written on the card was: To the Memory of our Dear Sister Catherine. Bob and Mary loved you. Whenever Bob called, he always inquired about you. Then, we saw the floral spray from our church. It, too, was gorgeous. It was loaded with white and blue carnations with a matching blue satin bow and ribbon embossed with the words: We'll see you in the Morning.
How wonderful it is to know that we have the blessed hope of the resurrection of the Just. Yes, dear Sister Catherine, rest in peace now, and we will see you when you wake up on that bright and glorious Special Resurrection Morning!
Your Sister in Christ,
Lydia
P. S. Last Sabbath we went to the Nursing Home. This was the first Sabbath we had the program without you, Catherine. I sure missed you. John led out and I played the piano.
I told Valoria Deen that you had passed away, and she hung her head and cried. Remember Valoria? She was the lady who wore the same, old tan corduroy jacket that had a rip under the arm. You felt sorry for Valoria, and you found her a nice new corduroy jacket that fitted her perfectly. Well, the next time we came, she still wore the same old, ripped tan corduroy jacket. We couldn't win for losing, could we?
One time, Valoria came up to us to ask for some change for soda. At first, we couldn't understand what she was saying. You gave her a dollar or two. Catherine, you started a tradition. Every time we went to the nursing home, you gave Valoria a dollar or two for soda. Well, this last Sabbath, I gave her a dollar for you, how about that?
--Lydia

When They Ring the Golden Bells
There's a land beyond the river, that we call the sweet forever,
And we only reach that shore by faith's decree;
One by one we'll gain the portals, there to dwell with the immortals,
When they ring the golden bells for you and me.

Chorus

Don't you hear the bells now ringing?
Don't you hear the angels singing?
Tis the glory hallelujah Jubilee.
In that far off sweet forever,
Just beyond the shining river,
When they ring the golden bells for you and me.

We shall know no sin or sorrow, in that haven of tomorrow,
When our barque shall sail beyond the silver sea;
We shall only know the blessing of our Father's sweet caressing,
When they ring the golden bells for you and me.

When our days shall know their number, and in death we sweetly slumber,
When the King commands the spirit to be free;
Nevermore with anguish laden, we shall reach that lovely Eden,
When they ring the golden bells for you and me.

--Margie Harrell
HOME
NEXT
BACK