When my husband John was diagnosed with Alzheimer's, it seemed that I was walking around with a big dark cloud over my head. We had plans to start a prison ministry as soon as I retired from work. We had a prison in mind to go to and conduct Sabbath services there. Now with this diagnosis, the future was bleak. I relied heavily on my husband's driving skills and excellent sense of direction. If we were going to do a lot of traveling, I would need him around.

The doctors recommended that John be placed in a nursing home or an assisted living center. The cost to have a loved one stay in one of these places was phenomenal. We did not have long-term insurance, and we did not have a lot of money to our name. I went to the Florida Department of Children & Families to see what kind of help I could get to help defray some of the costs. I found out that there was not a lot of help they could give because I was making a lot of money at my job.
When John was discharged from the hospital, he was transported to a privately-owned assisted living center close to where we lived. Even though I was paying them a bunch of money out of my own pocket, I had to bring his foods and drinks. They did not cater to vegetarians. Bringing these food items did not necessarily mean John would get them. Many times they would serve John whatever they served the others. I was not happy about the situation there, and it seemed that there was nothing I could do.
I felt overwhelmed with all the things that were happening. At lunch break, I went for a walk. I was contemplating my seemingly hopeless situation and nurturing the gloom and doom, between-a-rock-and-a-hard-place feeling I was having lately. Suddenly, I stopped dead in my tracks. I rebuked myself for what I was doing. I said: "Lydia, you've got to snap out of this. You are a child of the King. You are Royalty. Your Heavenly Father owns the cattle on a thousand hills."
Tears stung my eyes when I realized the lack of faith I had in my Heavenly Father. Then, I felt the heavy load I was carrying around for weeks lifted. I could breath easier. The sky seemed bluer, and the birds were singing. I looked down at the ground and saw tiny flowers growing amidst the grass I was walking on. I picked up one. It had tiny, almost hair-like lavender petals with a round yellow center. The round yellow center looked like a face with two dots for eyes and, believe it or not, a smiling mouth. The flower was smiling at me! Then, I thought maybe all the flowers are like that. I picked up another flower and looked at it. No, it didn't have a smiling face. I picked more flowers. No, they, too, didn't have smiling faces. The smiling flower was God's message to cheer me up. I knew then that everything would be all right. I took the flower back to my work and showed in to my friend Sherlene. The first thing she said was: "Lydia, it's smiling!"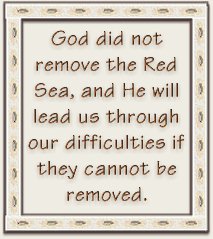 Have you come to the Red Sea place in your life? Click on the plaque above.





I'm Not Alone Midi
Each Step I Take Midi