MY BROTHER DAVID
(The Lord's My Shepherd)
My brother David was married to Cordy and had five children--Viola, Lisa, Tina, David, Jr., and Daniel. His wife Cordy contracted Leukemia and passed away when the children were quite small--the youngest was only two years at the time.
Later, David met and married Narcy, and they have two children--Diana (Dinky) and Veronica (Vicky). Velma is Narcy's daughter from a previous marriage. Narcy was born and raised in the Philippines. She was a sweet mother to my brother's young children. She was instrumental in teaching the children to be independent, self-reliant, and responsible young adults.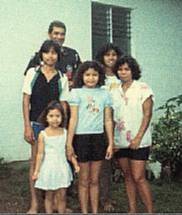 This is a picture of David and his family. Narcy is on the far right on the front row. David is at the back. In front of David is Daniel who was only two years old when Cordy passed away. Little Veronica is on the far left on the front row. Diana "Dinky" is in the middle on the front row. Behind Narcy is Velma.
While my brother and Narcy were a happy couple, something came about that changed their lives forever. Their daughter, Diana (middle in picture), 10 years old at the time, was diagnosed with Leukemia--the same disease that took the life of his dear wife Cordy. Even after undergoing extensive treatments both in Guam and Hawaii, Diana succumbed to the disease. Click here to read about Diana.
What I remember most about my brother was he was family-oriented. He loved us and showed his love by doing stuff for us. One of his favorite past time was go to the woods (boondocks or jungle) and bring home guavas, mangoes, star apples, anonas, soursap, limboy and other tropical fruits that grew in the wild.
There was one incident that I remember vividly in my mind about David. In Guam, we ate green mangoes. We ate ripe mangoes too, but there was something about eating green mangoes with salt and hot peppers. I remember David telling me to eat only one half of the green mango and throw the other half away. He told me that eating a whole green mango would make me sick, and he didn't want this to happen. I loved green mangoes with salt and peppers, so after I ate my quota of half a mango, I took off running to get away from David. He chased me and retrieved the mango.
When he was younger, David enjoyed flying kites (aka papalotee) with my father and brother Danny. They made huge kites out of newspapers with strips of bamboo used for the frames. They didn't use paste back then; instead they used sticky rice to glue the newspapers in place. They used twine to hold the bamboo strips together. These kites held up because they would fly them for hours. I know David and Danny enjoyed the time spent with my dad flying kites. I think my dad was just a kid at heart.
Of all my siblings, my brother David has probably gone through more trials in his life than any of us. In spite of losing his first wife and a child to leukemia, my brother David has not lost his faith in the Lord as his Great Shepherd of the Flock--One who watches over him and his family doing as He sees fit for He knows what's best. David has never questioned Infinite Wisdom or doubted God's love and tender mercy.
The Lord's My Shepherd
The Lord's my Shepherd I'll not want;
He makes me down to lie
In pastures green He leadeth me
The quiet waters by.

My soul He doth restore again,
And me to walk doth make
Within the paths of righteousness,
E'en for His own name's sake.

Yea, tho I walk through death's dark vale,
Yet will I fear no ill,
For Thou art with me, and Thy rod
And staff me comfort still.

My table Thou hast furnished
In presence of my foes;
My head Thou dost with oil anoint,
And my cup overflows.

Goodness and mercy all my life
Shall surely follow me,
And in God's house forevermore
My dwelling place shall be.

--Jessie Seymour Irvine

The Lord is My Shepherd Midi